About NameBounce
Welcome to NameBounce's about page! Our goal here is to tell you about NameBounce, our story, and our future.
First, let's dive into who we are! NameBounce is a forward-thinking business naming startup. Our goal is to use technology to make it easy for anyone to find a memorable business name.
We officially launched in 2019. Since then, we've served users in 200 different countries, ranging from the Solomon Islands to the United States. We help new entrepreneurs find YouTube names, restaurant names, blog names, and more. We've been featured in Business.com, B2C, Product Hunt, SCORE, SmartBlogger, DNJournal, and more.
We're a new company, but we're growing. We're working hard to spread the word about our platform, and offer more products. Our most recent product is a course called Naming Made Easy. It's a one-of-a-kind, step-by-step system to find a memorable business name using free tools online.
One of our core values is to give back. The current economic situation is difficult. Many people are struggling to find jobs.
As a small, self-funded company, we can't give millions of dollars to coronavirus relief. But we can give hope to the people that use our website. We want to make it a little easier for people to do work that they love.
To do this, we try to balance making money with keeping the costs down for all of our users. We offer the vast majority of our products and services for free. At the moment, our only paid product is Naming Made Easy.
Due to naming frustration, many people get sidetracked starting their businesses. We want to flip that problem on its head. Instead, we want naming with confidence to be the catalyst that pushes them forward with their business.
We can't fix the world. But we can offer hope in our own small way. We hope that in some small way, our products can offer you hope too!



My Story
Hi, I'm Axel! I'm the founder of NameBounce.
Since I was a kid, I loved technology and creating things. From the age of three onward, I was on a computer. I had a desire to create, even though I didn't realize it for some time.
Now, I can see how that desire came out, even through video games like Madden and FIFA. I only enjoyed playing the "franchise" or "manager" modes. I liked building a team over many years, as opposed to playing single games.
Fast-forward a decade. By then, I was working in commercial real estate investments. I loved making my job easier by creating simple tools through automated spreadsheets.
Out of curiosity one day, I picked up a book on domain names.
Maybe it was due to the countless hours I spent on the internet growing up, but I got hooked on domain names. I knew I had to find a way to do something with them.
A few years ago, I wanted to start my own business. As I brainstormed ideas, I realized that I had a fascination about unlocking what made businesses work. I also loved helping other people start their own businesses.
Eventually, I combined all of these passions. The next step after deciding on a business idea is naming. I loved domain names and simple technology. From all of that, I had the idea to start a business that focused on technology-based naming.
And that's how NameBounce was born!
The Future of NameBounce
As I mentioned previously, starting a business can be hard. There's a reason why there's an undercurrent of nervousness in the job market. Many people want to start a business, but don't see it as a viable option.
However, the societal landscape has started to change. A four-year college degree can cost a quarter of a million dollars. Even after investing in college, 53% of college graduates end up unemployed or working in a job that doesn't require a college degree.
While the cost of college increases by the day, the cost of launching a business decreases by the day. Thanks to the internet, anyone can start a business for as little as a few hundred dollars. Affiliate marketing (which I do), blogging, and providing services can be fantastic business models that require little up-front investment.
We believe that starting a business shouldn't be complicated or risky. Our long-term vision is to help you start a business knowing that you will be successful.
Obviously, this is a daunting task. Nobody has figured this out and marketed it on a wide scale. There's a reason that the thought of losing a job is scary.
Nonetheless, we believe it's possible. It will take some time, but we're going to keep building towards that goal.
The first product we launched was our business name generator. Next, we realized that many people needed a more comprehensive naming solution. That's where Naming Made Easy came in.
Over time, we'll keep building more and more products with that endgame in mind. We'll offer some of them for free, and offer others at a reasonable price. Either way, we're ready to help you!
About the Founder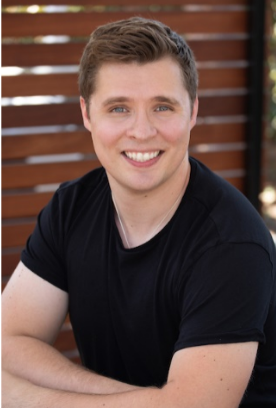 Axel DeAngelis is the Founder of NameBounceTM, a technology-focused business naming startup. He started NameBounce to make it easy for new entrepreneurs to find a memorable business name. His long-term goal is to help people start businesses knowing that they will be successful.
A native of a rural town in Upstate New York, Axel is currently an "expat" in sunny Orange County, California. He misses the snow, but doesn't miss chipping ice off of his windshield every morning.
In his free time, Axel loves spending time with his wife Patricia and toddler Sophia, watching football, playing sports like soccer and basketball, learning to play the piano, and spending time in the mountains.