About NameBounceTM
Would you like to find a fantastic business name that is vibrant, creative, and builds instant trust with your future customers?
At NameBounce, we can help you discover the business name that fits you. One you can be proud of. One that will help you build a successful business.
Even though domain names and website hosting are affordable, your business name is a significant investment. Once you pick your name, you'll build your entire company around it.
The naming process can be long, but we like to make everything as simple as possible. We want to activate your creative energy, not bog you down in details.
I'm sure you know the feeling. You start using a tool because it's supposed to be easy for beginners.
Then, you start working with it. One day later, you're frustrated and ready to start screaming at your computer screen.
With NameBounce, we tried to make things completely different. We have one central search box, like Google (which I'm sure you find super easy to use by now)! Type in a word (or two), and you've learned how to use the tool.
With one simple search, you'll see hundreds of business name ideas in a few seconds.
Sounds good?
If you're ready to commit to finding a name for your idea, we're super excited for you. Even though it can be hard to start a business, launching one is so rewarding. Taking the first step, by committing to finding a name, is a milestone to celebrate.
We look forward to helping you start your business!



My Story
Hi, I'm Axel! I'm the founder of NameBounce.
Since I was a kid, I loved technology and creating things. From the age of four, I was on a computer. I always had a desire to create, even though I didn't realize it for some time.
Now, I can see how that desire came out, even when I played video games like Madden and FIFA. I only enjoyed playing the "franchise" or "manager" modes. I liked building a team over many years, as opposed to playing single games.
Now, let's fast-forward a decade. By then, I was working in commercial real estate. Through that work, I started to realize that I liked making my job easier by creating powerful tools that were simple for me to use.
Out of curiosity one day, I picked up a book on domain names.
Maybe it was due to the countless hours I spent on the internet as a kid, but I immediately got hooked on domain names. I knew I had to find a way to do something with them.
Along the way, I also discovered another desire: a fascination for figuring out what makes a business work. Why is it that some businesses don't make money? How can we get people access to the knowledge that they need to make their business successful?
Eventually, I combined all of these passions. Building powerful, yet simple tools. Domain names. Helping people start businesses that work. With all of these, I realized that I wanted to start by creating a business name generator.
After I discovered my idea, I had to find a name for NameBounce! However, I needed to create my LLC, open bank accounts, and do other startup-related items before the search algorithm was complete.
Manually searching for the name took me weeks. Somewhere on my hard drive, I still have a spreadsheet saved down with over 100 different name options.
Now, with NameBounce, I don't need to use that spreadsheet again. And neither do you!
Instead of telling you why we don't need to use the spreadsheet again, we'll show you. Click here, type in one or two separate keywords, and see for yourself!
After Finding a Business Name, What's Next?
Finding a business name is incredibly important. It's usually the next step you'll take after thinking of an idea.
After you find your business name, the next step is to register the domain name and create a website.
If you decide to follow my guide to creating your first website, towards the end, you'll see a list of tools, books, and services that will help you start growing your business.
For background, NameBounce makes money from affiliate marketing. Essentially, that means instead of charging you to use NameBounce, I get paid a commission when I refer you to a product or service that you buy (at no cost to you). It's a great way to make NameBounce accessible to everyone who needs a business name.
I'll be honest – many people have questions on conflict-of-interest with affiliate marketing. And, for a good reason. I can't speak for every affiliate marketer, but there's an inherent bias towards sending people to the companies that pay the highest commission.
However, there are many things more important to me than commissions. By far, the most important is to earn your trust.
The only way I can do that is by referring you to what I believe are the best tools, books, and services out there. Regardless of their commission rates.
Look, I'm not perfect, and neither is any company that I refer you to. In doing your research, you might think another similar tool is a better option for you. Or, you might have a less-than-perfect experience.
However, I believe every service recommended on NameBounce is the best option for you out there. All of the services have fantastic user ratings. Our primary affiliate partner (SiteGround website hosting) has a 98% customer satisfaction rating!
On top of that, I make sure to use every tool that I recommend myself. And, as the cherry on top, you'll see many referrals to services that don't pay affiliate commissions. I'm not going to let commission rates keep me from providing you with the best advice that I possibly can.
I work hard to expand my business, but what I enjoy most is helping other people on their journey to a successful business.
If you're ready to get started, start searching for your name here. Then, check out our comprehensive guide to start building your website and growing your business!

The Future of NameBounce
As I mentioned previously, starting a business can be hard.
However, we're at a bit of a crossroads. A four-year college degree can cost a quarter of a million dollars. Even after investing in college, 53% of college graduates end up unemployed or working in a job that doesn't require a college degree.
At the same time, anyone can start a business for as little as a few hundred dollars. Affiliate marketing (which I do), blogging, and providing services can be fantastic business models that require little up-front investment.
We believe that starting a business shouldn't be complicated or risky. Our long-term vision is to make it simple for you to start a successful business.
Our business name generator is the beginning. Over time, we're planning to introduce more products, tools, and services that will help you accomplish that goal.
Interested? Sign up for our mailing list at the bottom of the page. Then, take the first step and start searching for your name!

About the Founder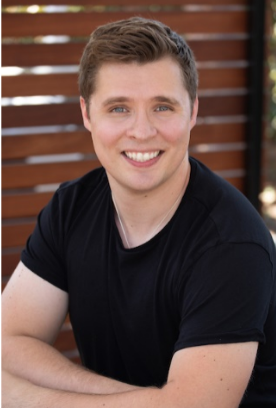 Axel DeAngelis is the Founder of NameBounceTM. He loves helping new business owners get their ideas off of the ground, and created his business name generator to help them find the perfect name. In addition to his work on NameBounce, Axel has over six years of experience in the commercial real estate industry.
A native of a rural town in Upstate New York, Axel is currently an "expat" in sunny Orange County, California. He misses the snow, but doesn't miss chipping ice off of his windshield every morning.
In his free time, Axel loves spending time with his wife Patricia and toddler Sophia, attending Daily Mass at his local Catholic Church, watching football (even when his teams aren't doing well!), decompressing by listening to classical music, and spending as much time in green spaces as possible.