How to Build a WordPress Website (Our Easy Step-By-Step Guide)
I used to think that building a website was extremely difficult. Creating a website felt like a black hole with hundreds of steps. I didn't know what it involved or even where to start. I thought I needed a fancy logo, coding knowledge, or a perfect design.
That perception stuck with me, even when I learned about WordPress and other resources that made it easy to build websites.
This limiting belief was extremely costly. If I knew that I could build a website myself in a few hours, I would have spent less time in the "wantrepreneur" phase, and I could have pursued my business dreams earlier.
What I needed was a guide that helped me build my first website step-by-step. We knew that other people had the same problem, so we made that guide.
If you're anything like me, you've had ideas in your head for a long time. You'll feel so much better when you take action and launch your business. It has never been easier to start a business, as evidenced by the soaring survival rates for new startups. You can start businesses for less than $100, and many of these ideas are only possible due to the internet.
Getting a commercial presence for your business with a website is the first step in reaching your business dreams. At the very least, writing posts on your website can give you a fun new hobby to complement your Netflix habit!
We hope that by the time you finish reading this guide, you will feel confident about your website and have faith in your ability to grow it.
We created this guide with three key goals in mind:
1. Success. We want you to have a successful website. We believe a big part of building a successful website is to utilize tools and services that help you understand your audience and grow your business. The services that we recommend for this guide are amazingly helpful for any website and business. (Also, installing and using them is easy!)
2. Savings. Every dollar counts in the early stages of starting a business. Aside from website hosting, most of the tools and services that we outline here are either 100% free, offer a free tier, or provide a 14+ day free trial.
3. Simplicity. We created this guide for complete beginners. You won't find advanced tutorials in this guide, but you will find enough detail to get you a complete website that is ready to grow.
If anything is unclear on this guide, feel free to use the Feedback button in the bottom right corner of the page and tell us. It would be super helpful if you selected an element on the page, so we can pinpoint what was unclear. Now, let's get started!
To Start – Why should I Choose WordPress?
WordPress is the most popular system for building websites in the world. Of all websites that are not custom coded in HTML, 60% use WordPress. These range from small businesses to major brands like TechCrunch and the New York Times.
You're likely debating whether to use WordPress or a website builder, such as Wix, Weebly, or Squarespace. Here are the biggest reasons why you should choose WordPress:
1. Price: Unlike website builders, WordPress is free to use. You only have to pay for website hosting (more on that later).
2. Plugins: Plugins are software tools that add more features to your WordPress site. There are over 50,000 WordPress plugins! Since WordPress is such a popular platform, they have far better plugin options than the website builders.
3. Ease of Use and Scalability: Previously, the primary advantage of the website builders was that they were more accessible for beginners. However, the Elementor page builder changed everything on this front. With Elementor, you can create a WordPress site using the same drag-and-drop features as the website builders. On top of that, you won't ever have to worry about eventually outgrowing your website – even if your business becomes as big as the New York Times!
STEP 1: Find a Domain Name
Choosing the Right Name
You probably came to NameBounce for this, so you're on the right track!
Read our Naming Advice article for more detail on choosing a name. The most important thing to remember is that there are millions of name combinations, many of which will be perfectly acceptable for your business.
With all of the options available, there's a high chance that like me, you'll spend weeks trying to find a perfect name. Due to excessive options, after you finally end up deciding on a name, you'll feel buyer's remorse and want to make a different choice.
To help you sort through all of your name options, we are working on a platform where you can get feedback on your name from your target market. Stay tuned on this. For now, sending out a survey to some friends in your target demographic is a reliable way to help you make a decision.
An Important Disclaimer
On NameBounce, the domain name availability checks are 97-98% accurate, and many of the false positives are likely to be strong options. Make sure to double-check the domain's availability before you add it to your brainstorming list.
STEP 2: Purchase the Domain Name and Website Hosting
What is Website Hosting?
When you enter a website into your address bar, your computer sends a request to a specific server. That server hosts the files for the website and returns the data your computer requested.
To build a website, you need to purchase access to a server, where you can store your website's files. This service is known as Website Hosting.
What Host does NameBounce Recommend?
NameBounce recommends SiteGround as our preferred website hosting partner.
We recommend SiteGround for many reasons, including the free SSL (which you need to get the "SECURE" lock next to your URL in your browser), free access to the Cloudflare content delivery network (which makes your website faster), and their strong entry-level pricing (with introductory packages starting at the price of a Starbucks latte each month).
They're also one of only three hosts officially recommended by WordPress, and have a huge focus on introducing innovative, in-house solutions that will make your life easier.
The WordPress Starter wizard is just one of them, which we'll go into more detail on later in this guide.
On top of that, their support is absolutely incredible. I often get no wait when I contact their support team, which is amazing in this age of automated phone systems.
However, the biggest reason we recommend SiteGround is their overall 98% customer satisfaction rating.
As a business owner, it is reassuring to know that if I recommend SiteGround's hosting services to you, there's a 98% chance that you'll be happy with your purchase.
Although we think SiteGround is a fantastic web host, we recommend that you read other reviews online to make an unbiased decision.
Click here (or on one of the names we generate) when you're ready to start the process.
1) Choose a Hosting Plan
When you arrive at SiteGround, you'll see three plan options; StartUp, GrowBig, and GoGeek.
We generally recommend starting with the GrowBig plan, as the extra $2/month cost over StartUp gets you access to SiteGround's SuperCacher plugin (which makes your site even faster), priority technical support, and more potential visitors, among many helpful features.

If you know that you want to start an eCommerce store, or expect to get a lot of traffic, the GoGeek plan is also a great option. This plan was designed with eCommerce in mind, and allows you to accommodate up to 100,000 visitors per month.

As a side note, SiteGround is also one of only two hosts
recommended by WooCommerce
, the leading WordPress eCommerce plugin. If you know you want to start an eCommerce store, SiteGround has a
dedicated WooCommerce hosting plan
that comes with WordPress, WooCommerce, and a storefront theme pre-installed.
2) Enter your Chosen Domain Name
After you choose a plan, SiteGround will direct you to the screen below. Enter your chosen domain name, and click "proceed."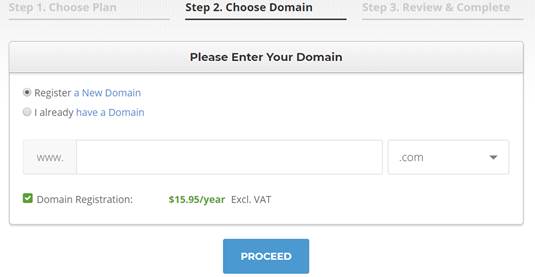 3) Select Additional Options and Purchase your Plan
After you choose your domain name, you'll arrive at the final order screen. There are a few additional options and extra services on this page. I'll outline my recommendations for each of them here:
Data Center: This one is simple; pick the data center closest to where your customers are. The closer the data center is to your customer, the faster your site will load.
Period: The introductory pricing only applies to your initial term. If money is tight, get the 12-month plan; at the end of 12 months, your business should be making enough money to cover the increased hosting cost. Otherwise, go for 24 or 36 months.
Domain Privacy: To register a domain name, you have to list your contact information in the WHOIS database, and someone can find it when they search for your domain name in the database. Domain privacy is a service that allows you to keep your contact information private. I purchase privacy for all of my domain names, but this is entirely up to you.
SG Site Scanner: Cyber security is a real issue, so it's important to try and limit any security risks wherever you can. The SG Site Scanner scans your website daily for malware, and also checks to make sure your domain name isn't on a blacklist. If it finds any issues, the tool emails you immediately. It costs less than $2/month, so I'd recommend getting it for your peace of mind.
4) Go to Admin Panel and Log In
After you complete your purchase, you'll arrive at a page allowing you to start the hosting setup process. Make sure to note your WordPress account login, as you'll need it in a few minutes.
After you fill in the details on those pages, you'll arrive at SiteGround's main User Area. From here, you'll want to click on the "My Accounts" tab, click on "Installations," and then click on "Go to Admin Panel."
After you've clicked on Installations, click on "Go to Admin Panel."
STEP 3: Complete SiteGround's WordPress Starter Wizard
1) Launch WordPress Starter and Choose a Theme
Now you should have arrived at the main WordPress dashboard.
You'll manage your site here in the future.
For now, we want to start using SiteGround's WordPress Starter. Click on the "Start Now" button in the blue box towards the top of the screen.
Your next step is to choose a theme. Themes are design templates that tell WordPress how your website should look.
Themes are highly customizable, but you're going to want to pick the theme that will be the best base for your website.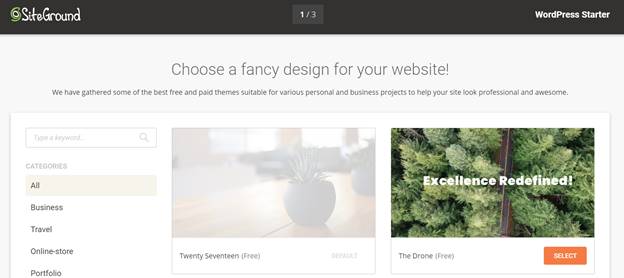 If you don't like the theme options, don't worry. It's easy to install another theme later.
After you select your theme, a screen will appear that asks if you want to install Elementor, the drag-and-drop page builder that I mentioned earlier.
I highly recommend installing it, as it's free and will make it much easier to build your website.
2) Install Functionality Plugins
Next, you'll arrive at a screen asking if you want to install four separate functionality plugins. Remember that if you don't want to install them now, you can always do so later. Here are my recommendations for each:
WPForms Contact Form: I highly recommend keeping this selected. Having the form will make it easy for your visitors to contact you.
WooCommerce Shop: WooCommerce is the leading plugin for adding e-Commerce functionality to your website. I recommend installing it if you plan to sell any products directly to your users.
The Events Calendar: Install this plugin if you want a calendar like this on your website. If you don't want one, or want to build one later, I'd recommend leaving this unchecked.
Jetpack: Jetpack is a plugin developed by Automattic, the company behind WordPress. It has a ton of different useful features, and you can pick and choose which ones to install. Installing it now is up to you. The features are beneficial, but the functionality this plugin has might be overwhelming at this early stage.
3) Install Marketing Plugins
After you make your functionality plugin selections, you'll arrive at a similar page for marketing plugins.
Google Analytics (via MonsterInsights): This is an absolute must-have. Google Analytics is a free tool that allows you to track how many people are visiting your website, where your visitors are finding you, pages they visit, and a whole lot more. The MonsterInsights plugin lets you set Google Analytics up in just a few clicks.
Yoast SEO: This is another must-have. SEO stands for search engine optimization, which is the process of achieving better rankings and higher-quality traffic from search engines. The Yoast SEO plugin will allow you to easily optimize your site for search engines. It's an excellent way for beginners to get started with SEO.
OptinMonster: OptinMonster provides a set of tools that help you convert more of your visitors into sales. They have great software – my favorite is the exit-intent popup, which shows an offer to users as they are about to leave your site. However, I'd recommend not installing it at this stage. OptinMonster is the first paid tool on the list, and it's better to start the free trial after you build out your website and start getting some traffic.
Note that you'll need to configure some of the plugins before they start working on your site. After you've installed the plugins, you can configure them on the WordPress Dashboard.
STEP 4: Add Content and Customize your Website
1) Change your Default Color Scheme and Font
Type your website into the address bar of your browser. You'll see your website with the theme you selected. Go to the bar on the top of the page, and click on "Customize."
After the bar appears on the left side, click on General Options, then "General Styling" to change the colors.
For fonts, click on "Typography" and you can change the settings from there.
2) Add a Page
First off, it's important to know what a page is and how it differs from a post. Pages do not have a publish date. The best practice is to use them for content that will stay mostly static. Your company's "About" page is a great example.
Posts are blog entries on your website that are listed chronologically (with the newest coming first). If you create a post, then it will appear on a blog section of your website.
To add a new page, look along the sidebar on the left side of your WordPress dashboard. Highlight "Pages," and then click "Add New."
After you click "Add New," you should arrive at the page below. Your first step is to add a title to the page. Since the theme I chose didn't have an about page added by default, I made the page title "About Us."
Note that you can always change page titles and URLs quickly by going to Pages/All Pages, highlighting a page, and then clicking "Quick Edit."

Next, start adding text and images in the blocks below. Start writing, and press enter to move to a new paragraph (just like in Microsoft Word).
To add an image, click on the "plus" icon on the left side of the block. You'll notice that there are other types of blocks that you can experiment with as well.
Click the "publish" button, double-check your settings, and you're all set!
3) Add a Blog Category and Post
The process of creating a blog post is no different from building a page. The two significant differences are where you go to make them, and the need to add a category.
First, you'll want to create a category. Highlight posts, and then click "categories." Fill out the information on the next page, and you'll have your category added.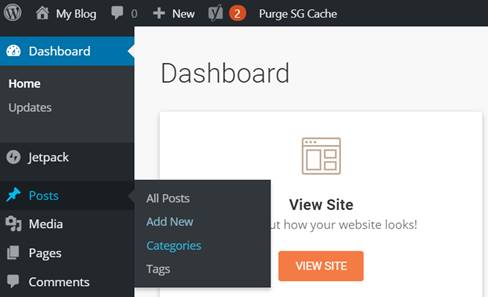 Next, you'll highlight "Posts" again, and then click "Add New." Write your post exactly like you wrote your page above. If you need ideas on what to write, check out this awesome list of 134 potential post topics.
After you've written your post, scroll down the sidebar on the right and select your category. Click publish, and you're done. Hopefully, you're getting the hang of it by now!
4) Modify your Menu Bar
Now, you'll want to start modifying your menu bars. On the sidebar, highlight "Appearance," and then click on "Menus." You can select which menu you want to edit at the top of the screen.
Once you've selected the menu you want to edit, you should see the screen below. WordPress will show pages by default, but you can scroll down to add posts, categories, custom links, and more.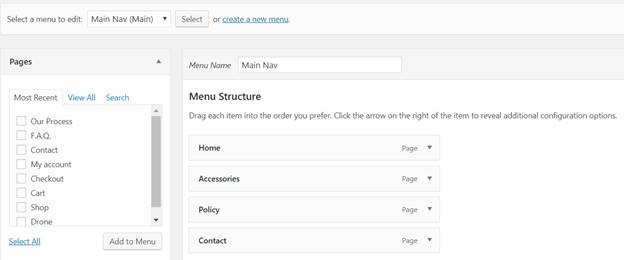 Simply click on the items that you want to add to the menu, and then drag and drop on the right side to change the order. You can change the menu titles using the arrows next to each menu item.
Click Save Menu, and you're done!
5) Modify your Website with Elementor
Elementor starts to shine when you begin to redesign your website. Go to your website, and click "Edit with Elementor" on the page that you want to edit.
Elementor will appear on the left side of your screen. For now, let's start on the page itself. Highlight an individual section, and you'll see the icons below appear.

The plus icon adds a new blank section above the section you highlighted. The dots allow you to edit the section, and the X deletes the section.

Once you've added sections, you can drag and drop the widgets on the left side to customize your site. Below are some of the critical widgets to understand:
· Inner Section: This allows you to create additional columns within a section. The inner section comes loaded by default with two columns. If you want more, highlight one of the columns, right-click the book icon that appears in the top left corner, and click "duplicate."
· Image and Icon Boxes: These boxes allow you to add an image or icon, along with a header and text underneath.
· Heading, Image, Text Editor, and Video: These items are vital elements to any website.
· Button: Want to add a "click here" button to the page? You can add it here.
Once you've made the changes you want, make sure to click the green update button in the bottom left corner.
At this point, you should have a fully functioning website!
You'll continue to make changes, but you should be proud of yourself for getting it up and running.
The beginning stage is always the biggest hurdle in learning, so this should give you a great foundation for your WordPress journey.
Bonus: Additional Website Tools and Services
There's another step that you can take to give your website even more of an edge.
You'll remember the plugins that you installed during Step 3 of this guide. The list below outlines more highly recommended tools and services.
You'll have an even bigger head start on your competitors if you use these. In the post, I listed the starting pricing tier for each tool or service.
Tools to Integrate with your Website:
Hotjar: See the Feedback button in the bottom right corner of this page? That's one of the Hotjar's most helpful features. It allows me to see what my users like and don't like so I can make changes going forward.
Hotjar also allows you to see heatmaps of where your users are clicking, watch visitor session recordings, recruit users for surveys and user tests, and more. Check out their Product Tour for more detail.
· Starting Pricing Tier: Forever Free
ConvertKit: One of the most valuable assets for any website is the company's mailing list.
Do you know those pop-ups that you see when you go to certain websites? Usually, the creators offer a helpful free guide in exchange for your email address (this is known as an opt-in).
Once you're on the email list, it allows the website/creator to build a relationship with you over time, which increases the chance that you will buy one of their products.
ConvertKit is the most beginner-friendly email list management system, and you can be set up and ready for list subscribers within an afternoon. Sign up for it once your website is prepared to launch.
We negotiated a 30-day free trial with ConvertKit, which gives you an extra 16 days on top of their standard free trial. Sign up using our affiliate link here.
· Starting Pricing Tier: 30-day free trial, followed by $29/month
Akismet: If you allow users to leave comments on your site, Akismet is a must-have. It will keep you from having to worry about any spam comments.
· Starting Pricing Tier: Free for personal websites and blogs, $5/month for commercial websites
Outside Services:
SEMRush: SEMRush is one of the most useful tools out there for search engine optimization (SEO) and competitive market analysis.
The most valuable features for beginners are organic research (where your competitors are ranking within search engines), web traffic analytics, and paid search analytics (search terms your competitors are bidding on).
I highly recommend signing up for an account, as even the free tier mentioned below can allow you to get valuable information on your competition.
· Starting Pricing Tier: 10 requests per day are free if you sign up for an account; seven-day free trial + $99/month otherwise
Unsplash: If you need images for your website, start by looking on Unsplash. Unsplash has royalty-free photos, and many of them are super-high quality.
Placeit: Placeit allows you to create logos, mockups, videos, and designs in seconds using smart templates. I already had a logo when I discovered Placeit, but I plugged in my name and colors and got some pretty cool logo options. Click here to check out the results!
If you want some ideas on picking colors for your logo and website, Vexels has an excellent post on logo design psychology that is worth a quick readthrough.

· Starting Pricing Tier: $29/month for unlimited access

Books:

Making Websites Win Book: This book is worth its weight in gold. Written by the founders of the Conversion Rate Optimization (CRO) field, it contains a ton of information that will give your users a better experience on your website, leading to more sales, traffic, or any other goal that you have.
I can't do it justice in this short section, so click on the link and start reading the sample. If you build your company with these principles in mind, your business will be on the fast track to growth.
3 Months to No. 1: If you want to learn SEO and get your site ranked in Google, this is the best book to buy. It's a really easy read, and Will (the author) outlines a week-by-week action plan that you can follow. I highly recommend it!

Comments and Questions?
We'd love to hear from you! The more feedback we get, the more helpful this guide will become. Use the feedback button on the right side of the page.
While we can't respond to every submission, know that we read each one and truly appreciate the valuable time you take to provide us with feedback.
Finally, if you have a success story building a website using this guide, we'd love to hear that too! One of the best rewards from our business is seeing people take the first step towards their entrepreneurial dreams.
We'll keep building content that will help you grow your business, so sign up for our mailing list or check back from time to time!